Every year 800 000+ people are coming to visit the small town of Hallstatt. And there is a clear reason for that :). But what to do, where to stay, how to plan your trip, if you want to spend more time in Ausseerland and explore the beautiful nature around Hallstatt? This is, what I am going to help you in right now! 🙂
When we were planning to visit Ausseerland, we knew 2 things for sure: we want to go to Hallstatt, and we were dying to explore Loser mountain and watch the sun coming up from the top of the mountain.
Therefore, we were looking for the perfect stay, which can be an ideal location for the trip, but we also wanted to have a relaxing few days in magical surroundings, so we were looking for our cute escape from the city, and that is when we found Mondi resort. It is not too much to say, that it was the best choice! Lovely staff, the most delicious breakfast, and a private wellness area in our wooden house, surrounded by the alpine mountains. But let me tell more about this a bit later 🙂
So let's see our itinerary, best things to see and of course the most beautiful spots ?
#WHAT TO SEE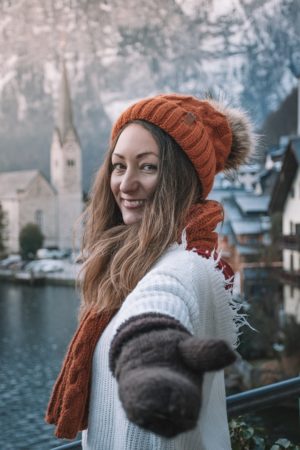 We have been visiting Hallstatt in 2019 February, and we already knew, probably we will see each other very soon. So, we kicked 2020 off with paying another visit to the most adorable town of Austria.
Why is it so famous?
Because it is picturesque on an unbeatable level. Swans are swimming around the lake nestled tiny town, where you can feel the old history of this place, by just walking into it. Narrow streets, hot wine in a cozy pub and mountain views. These could be just highlights of your day, if you pay a visit to Hallstatt.
Churches of Hallstatt
The view from the backyard of the Catholic church to the Evangelical one was our favourite view to the city. The Catholic church was built in 1505 and its tower is dated back to the beginning of the 14th century, when the original church was built.
The Evangelical church is located directly in the centre of Hallstatt, and through many "war-rich" years, it served as the house of prayer for the Protestant people.
Drink a hot wine and eat a homemade cake at Die Gemischtwarenhandlung am See
If you are visiting Hallstatt during winter, you will need to heat yourself from time to time 🙂 as it gets cold, so it might be a good idea to check in the cosiest cafe of Hallstatt and drink a hot chocolate or a hot wine. But trying out one from their home made, delicious cake was also a must for us.
Salt mine
"The oldest salt mine in the world, Europe's oldest wooden staircase and the free-floating Skywalk with its "World Heritage View", 360 meters above the ground: Hallstatt Salt Mine is a mine of superlatives" – they say, and they are not overselling it. On a bad-weather day, it is certainly a must, but if you are planning to spend more, than just a day in the town, you should probably check it out. Tickets, prices, and all the details about the mine, you can find here:
https://www.salzwelten.at/en/hallstatt/
Hallstatt Skywalk
"Between Heaven and Earth". 360 meters above the roofs of Hallstatt you can get that beautiful UNESCO heritage view. The whole town is just right in front of you, and it is simply breath-taking. You can reach it by walking up, or there is also a lift, which brings you up to the viewpoint. It cost 18 EUR for adults.
Looser mountain
This was the main reason of our trip to Grundlsee, besides the 3 beautiful lakes here ?. We planned to do a sunrise trip, up to the top of the mountain to have a 360 panoramic view, all above the clouds. It certainly the best experience, however we were not aware, that during winter time, the roads are closed as the mountain operates as a ski resort ?. It means two things ?, we should come back during summer time and it also means, you have great
possibility for skiing, in a beautiful environment. The ski resort is just in a 15 minutes distance from our lovely resort, which also makes it the perfect headquarter to your trip to the area. Check the below link for the amazing view you can have from the top of the mountain: 
Looser mountain view
Grundlsee & and the 3-lake tour
One of the numerous reasons why we would like to come back to Grundlsee is the 3-lake tour. From spring to autumn, you can participate in a 3-lake tour, when you can discover Grundlsee, Toplitzsee and Kammersee on a 4 hours trip by lake-hopping from one to another ?. You will start you trip at Grundlsee, with learning about the history of the region, its traditions, while you wander around the hidden treasures of this area. By a 20 minutes boat trip you will reach Toplitzsee, where you arrive to the over 100 meters deep lake. From here, it is only a short walk to the Kammersee, which is the last stop of your trip. All along surrounded by peaceful and calming nature in
the Austrian Alps. Information and tickets:
https://www.schifffahrt-grundlsee.at/en/three-lakes-tour
#WHERE TO STAY
We had the pleasure to stay at the gorgeous Mondi resort in Grundlsee. A resort sits between the Alpine mountains, nestled by the lake view of Grundlsee.
It lays just to a 30 minutes' drive from Hallstatt, and 15 minutes from Looser mountain, which makes it the most ideal location for a trip in Ausseerland. But we received so much & more.
The resort has 2 areas, the newly built Mondi Chalets, and the Mondi Hotel with the picturesque view to the lake of Grundlsee. Lucky us, that we had the possibility to stay in both ?. By arriving to the resort, we were immediately surrounded by the lovely staff, who not just helped us in showing around the resort, but also gave us some local tips about the area.
As we just arrived directly from Budapest, after 6 hours of driving we were tired… quite a bit, so we immediately booked our massage in the wellness centre of the hotel, which helped us kicking off our relaxing weekend. The hotel's wellness area has everything what you need to relax: sauna, steam bath, cold pool, massage centre and swimming pool with a panoramic view to the lake. All to enjoy a relaxing weekend on the best possible way.
Breakfast time at Mondi resort
You all know, I am a morning type of person ?. I love watching the sunrise, love waking up early for a great work out and probably due to the same reason I appreciate a delicious breakfast more, than any other meal. Various type of cheeses, fruits, bakery, cold meet, prosciutto, sweets, fresh waffle, pancake, egg based on your preference and delicious local jams are waiting for you every morning at Mondi Hotel.
My favourite part of the breakfast was the tea table, where you can mix your own tea as per your choice from the different natural ingredients. Such a cool idea.
We took the liberty to enjoy the breakfast at our balcony. 🙂
The magic of the Chalets
Village vibes, handmade furnitures, warm of a fireplace, starry sky, fresh air and a private world are just for you in this exclusive part of the resort.
This brand-new area of the Mondi resort offers you the choice between the 11 private chalets and 5 rooms in the main chalets. All the chalets have fireplace, private Finnish sauna and hot tube on your terrace. It does sound amazing, right? 🙂
By the morning you will be delighted by a basket full of delicious regional specialities for breakfast. I can honestly say this was the best place we have ever stayed at all around Austria. It gives you the perfect combination of relaxing, but active holiday, village vibe, but brand new furnitures from old wooden. You immediately feel yourself at home.
Dining at Mondi Resort
There are two choices, and both are great a great option. Stefan Haas and his team are waiting for you in the Gasthaus Seeblick with traditional meals and old favourites like the famous "Wiener Schnitzel". You can't choose wrong. All the foods are freshly prepared and made from local, quality ingredients. ?
If You are up for an exclusive experience, you have something to celebrate or if you just want to eat something beyond delicious, take yourself a favour and try out Restaurant Wassermann. Stefan Haas dream of the idea of having a fine dining restaurant in the resort, which serves all the high standard needs. " It is a new stage for him to present his creativity, coupled with the highest quality demands he continues to delight diners with his fine and extravagant dishes." – they say. It certainly is a must try experience in a charming environment.
So! Did I convince you to take a visit to Ausseerland? If so, what are you waiting for? ?
We will be surely coming back during summertime to enjoy all these nature vibes again, again and
again!
See You soon Grundlsee, Hallstatt, Looser mountain!
The Macaron Girl