3 yachts – 6 islands – 7 days – 9 new clothes – thousands of blooming flowers, tons of great memories and 1 happy girl – actually 2, because I was traveling with Niki :).
That is how we closed our Greek island-hopping trip with the @sailweek team.
#WHY I LOVED GREECE with the @sailweek team
Greece has so much to show, and @sailweek team helps you to discover all the hidden gems of these Greek islands.
Would I've ever visited Hydra, Ermioni or Poros islands, if @sailweek team was not inviting me to this trip? Probably not. And what a mistake it would have been.
This 7 days trip was exciting, fun, recharging and relaxing at the same time. There is something unique and exciting in exploring a new island every day.
It was a real adventure! I have learned how to stand on a paddleboard, how to make tzatziki properly, how to tie a knot, and obviously, we had so much fun with the team 🙂
#WHEN TO GO
They start the Greek island-hopping trips in July, when the weather gets warmer and they run it every week till mid-September.
You can book a full yacht – up to 10 guests – or just a spot/cabin – as per your reference.
#

WHAT TO SEE
So let's see how a @sailweek trip's itinerary looks like from a travel blogger's perspective 🙂
Athen
You arrive to Athen at the Alimos Marina port, find the Sailweek spot to check-in (not that easy, as the harbor is huge, but you can ask help in the port, there will be someone to help no doubt), meet your skipper and "yachtmates" for the next few days, wait till 2-3 pm, when your trip is getting started.
Agistri
The first island you are going to visit is in just a 2-3 hours sailing distance from Athen.
By getting up the boat, your first wish will be to change your outfit to bikini immediately and enjoy the sun, while your skipper sails you to your first stop – to Agistri.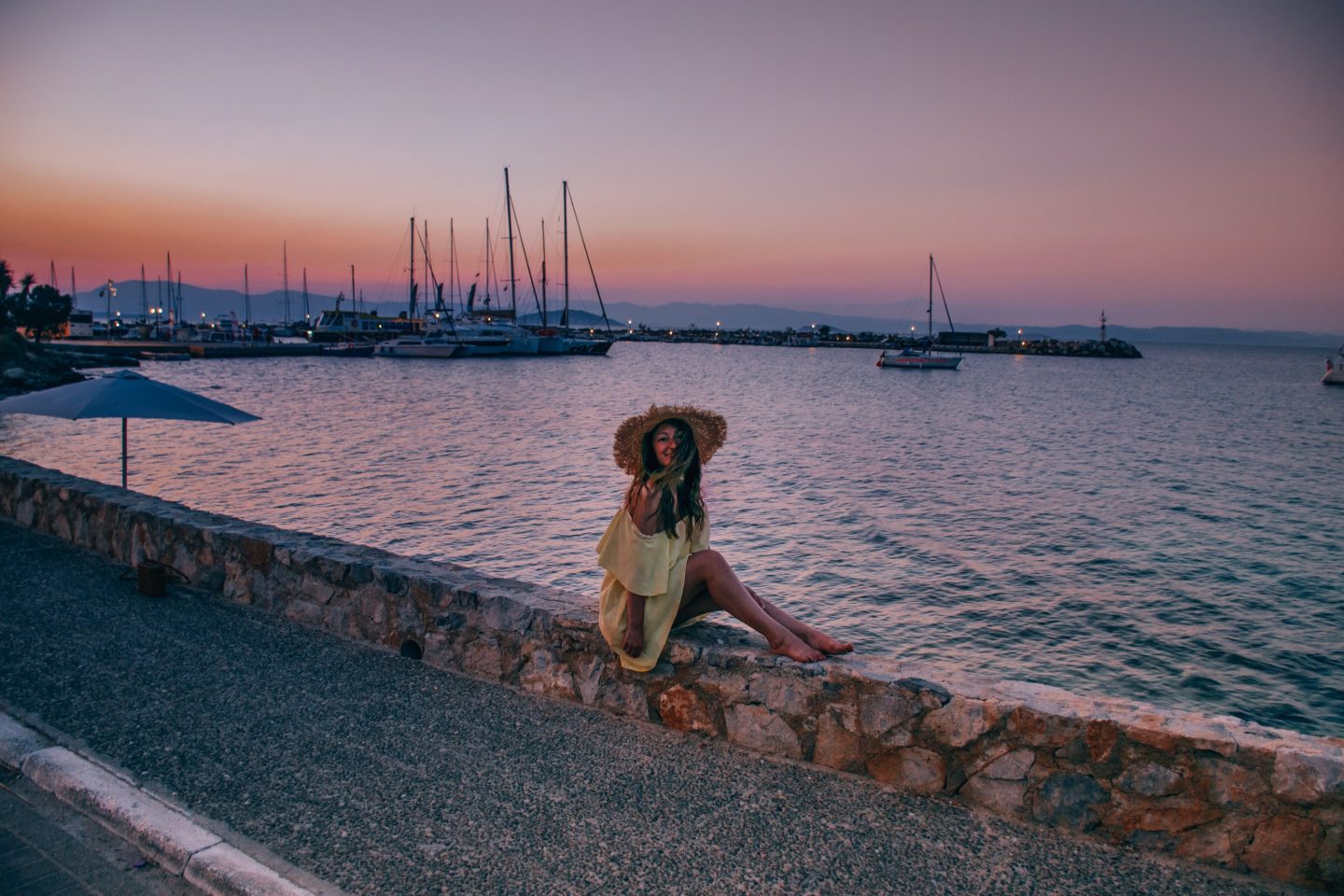 This is a small island, with cute shops, sandy beaches, hand-crafted souvenirs and a pretty, blue-white colored church – one, which you remember from the postcards of Santorini.
Hydra
Exploring the island of Hydra, which is one of the most authentic places in Greece – gives you a one of a lifetime experience. As no cars allowed on the island, you can take a donkey ride, (window)shopping on the narrow-little streets of  the island and enjoy a beautiful sunset at Sunset bar – they have great cocktails too 😉
Ermioni
Ermioni surprised us with its wonderful sunset from the small hill nearby the port – it took 15 minutes to walk up – and with its incredibly huge bougainvillea tree in full of bloom. Could not imagine a better one.
Spetses
Another island, where cars are not allowed to enter  – which ensures you will have a calm and relaxing time.
By arriving at the island, you can visit adorable shops of local artists, or rent a scooter to explore the island's beautiful beaches… or both 😉
There are also several great restaurants and bars, where you can drink a good Aperol Spritz, but a must-have experience for all the seafood-lovers, is to try fresh fish straight from the fisherman or any local Greek cuisine at one of the excellent traditional tavernas. Believe me; you will not regret it.
Dokos & the beach BBQ
Your skipper will sail your boat to a quiet bay on this deserted island, with only 2 habitants – an old lady and her donkey 😉 This is a perfect day to try out paddleboard, to dive or just to relax and sunbathe.
Join the skippers, who buy fresh fish and prepare the best beach BBQ you have ever experienced.
Poros
My favourite, by far. I guess it is not by accident, that they keep it till the very end – the arriving view grabs you immediately, but just by a 10 minutes walk from the port, you get a 360-degree view, so no excuse climb that hill. 🙂
I was dying to get a picture of me sitting on roofs – and Poros is the perfect place for it.
The town is built in the hill; therefore the houses are so close to each other, that you want to play Maugli and jump from roof to roof till you reach the top.
Many of you have asked me, where you can find the exact spot to sit on the roof.. well,
here you go
😉
Last but not least, we have found the loveliest little shop of hand-made clothes here in Poros –
the Think Greek store
. On many of the Greek islands prices of the local stuff can go quite high, but in Poros, you will have the chance to buy some of the prettiest pieces of the Greek fashion on reasonable price.
No need to mention – I have bought a bunch of new clothes..shame on me 🙂
….
Arriving back to Athen
You have a full day to explore the ancient streets of Athen, to visit the Acropolis with the temple of Pantheon, the National Gardens, or just enjoy one more day of sunbathing with your yachtmates.
….
#USEFUL TIPS
Living a yacht-life for 7 days has some restrictions.
Pack light, the yacht is probably smaller, than your home and you are going to share it with 7 other people. Anyways… in 90% of the cases, you will be in a bikini 😉
Always bring sun-cream with yourself. The sun can get very strong, especially in July, so better to prepare for it.
Bring a JBL or any portable speaker to make your sail trip even more fun by listening to the best songs.
….
#THANK YOU
Finally, I need to say a huge THANK YOU to the @sailweek team and to Stelios – the best skipper – for making our time amazing!
You have any question to the @sailweek trip? Don't be hesitant, ask me, or check directly out @sailweek's webpage
here
.
PS: They have a trip to Croatia as well, check that out too.
PS2: Many of the pic was taken by
@nikinagyniki
, check her insta out 😉
Sincereley,
The Macaron Girl